Placing a marker
Tap the map to open the "Add Marker" panel
Progress through the panel by filling in your details.
Solve the ReCaptcha on the final step to enable the "Submit" button.
Tap "Submit" and you're done! Your marker should now be visible on the map.
Interacting with markers
Simply tap a marker to open the marker info-window. This window contains a menu that allows you to perform a number of actions.

Link

- this will copy a URL to your clipboard which will take you directly to this marker. Use this for sharing markers with others.

Edit

- update marker details. You will need to input the correct password to perform this action.

Delete

- this will irreversibly remove the marker from the map. You will need to input the correct password to perform this action.

Report

- this allows you to submit a report for a marker for a variety of reasons, such as if you think a marker is spam or contains offensive content.
Filtering markers
Filtering markers helps you to connect with people who fulfil your own personal criteria. Tap the filters icon in the top left to open the filters panel.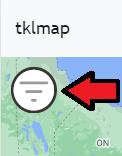 To apply a filter to the map:
Select which filters you want to apply on the filters panel.
Tap "Apply Filters" at the bottom of the filters panel.
The map will change to only show markers that fulfil the criteria you have specified, and the filters button will show an "Active" state in the form of a small red exclamation mark.
Tap "Reset Filters" on the filters panel to remove any applied filtering and return to the default map view.
Why would I want to register an account on tklmap?


Registered users gain access to additional features that make interacting with the site much easier, such as filter presets and a marker management section. As development of tklmap continues, new features are likely to be added that are only accessible to registered users. So if you consider yourself an avid user of tklmap, consider registering an account today!

Do I need to register an account to use tklmap?


Although registering an account is a great idea, the answer is, no - you can place and view markers without doing so.

Is tklmap free to use?


Yes, tklmap is free, but website hosting isn't! If you are interested in supporting tklmap, please consider donating.

I'm having technical issues with the site, what do I do?


Please report any bugs you encounter via the contact page.

I've forgotten my marker password, what do I do?


Please submit a contact form if you forget your password. Visit the contact page to get in touch.